Visa Requirements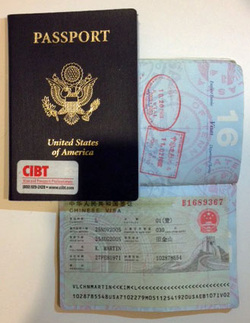 A Chinese Visa is the first step for your journey to mainland China. All United States citizens and foreign travelers must get a visa before entering China. Your passport must be valid for another 6 months. Visas are issued through Chinese embassies and consulates. At the airport the Airline will check for your visa before allowing you to check-in, especially Chinese airlines. Most travelers require a single entry visa but if you plan to re-entry China more than once then you will need a multi-entry visa. For example, if you arrive in mainland China (one entry) and then travel to Hong Kong then back to mainland China (second entry) this would require a multi-entry visa.
New:
Visa requirements for 72 hours visa-free (no visa required) stay in Beijing and Shanghai. If you plan to visit Beijing or Shanghai for less than 72 hours this new option will save you time and money.
Helpful Hint:
Your passport must have at least 2 blank pages available to attach the visa and entry/exit stamps, see Photo. Make a copy of your passport and keep it in your luggage. Also take a picture and keep it on your smart phone and send a copy to your email as well.
China Visa
Mainland China – Visa Required
Beijing and Shanghai 72 hour stay only – No Visa Required
Macau – No Visa Required
Hong Kong – No Visa Required
Taiwan – No Visa Required
Tibet – Permit is required
Organized Group Tours – Check with operator for Visa requirements
All visa requirements listed above are for US Citizens.
My Experience:
The visa process is relatively easy because China wants you to visit their wonderful country. There are several methods to get your visa, do it yourself, use a service agency, or group tours. I prefer using the service agency and there are many service agencies available so shop around. Whatever method you choose please read all the information carefully and follow the instructions. The most important part is to plan in advance to avoid expedite fees or delays.
Keep your passport with you at all times in China.
US Government website -
http://travel.state.gov/travel/cis_pa_tw/cis/cis_1089.html
Chinese Visa Website -
http://www.china-embassy.org/eng/visas/
New - 10 Year Visa for China
Update as of 2016 - When you apply for a visa to China they are now valid for 10 years (multi-entry). If you go to China a lot like myself I would suggest renewing your passport as well there for your China visa for 10 years and your passport for 10 years will expire in the same year.