China Travel Tips – Personal Space and Lines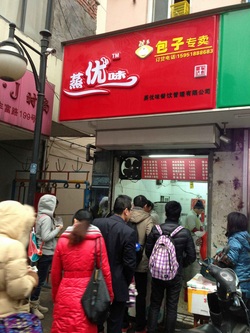 Personal space and organized lines in China are very different from the US. The Chinese have close personal space with each other compared to the US. You will see frequently in China females holding hands and arms which is common for them. When waiting in lines or in tight areas such as buses or trains everyone will be in close contact of each other. In transportation, for example, buses will be over loaded with people and such it will seems people are seating on each other.
In China they have organized lines (standing or waiting in line) but you may encounter that organized lines do not always exist. We want you to be prepared and not take it personally and the further you get outside the major cities the more likely you will encounter this fun experience. Ordering street food is common where there is no line you just need to work your way into the mix to order and get your food. If you do choose to fly on a Chinese airline you will most likely experience this before you arrive in China. It may seem unorganized to us, but I can tell you from personal experience the lines move more quickly than our US standards for boarding on flights.
China Travel Tips – Personal Space and Organized Lines
Transportation

Banks/ATM

Historical Sites

Purchases

Street Food
Cultural Differences – Personal Space and Organized Lines (waiting and standing in line)
The Chinese have small personal spaces compare to personal space in the United States. We in the United States like our large personal space and do not like people in our personal space. In China it is totally the opposite. We have private work areas in our workplace and when we travel on business each employee must have their own hotel room while in China it is common for business travelers to share hotel rooms to save money. You are in China which has the largest population on earth so you are bound to have close personal contact and or people invading your personal space. When you ride on buses and trains and they are packed with people, especially during the Chinese New Year with the mighty migration back to their family homes, it is crowded.




In the United States organized lines are part of our culture and we follow them. This is most evident with driving in cars and we have what is called road rage, it someone cuts us off on the road we take it personally but in China it is very common to be cut off by someone driving a car it is who get in front the first, in China this relates to driving and standing in line waiting for service.



My Experience – Personal Space and Organized Lines
This frustrates a lot of first time visitors to China and including me (because I am impatient) until I understood it was part of their culture. My first experience with waiting in line was when my wife met me at the Shanghai airport and we went to purchase bus tickets to Nanjing. There were 2 men in line at the window and my wife walked right up in front of them and put her hand in the window with her money and bought 2 tickets for us. I was shocked, what just happened she cut in line and purchased 2 tickets. I thought we would get in an argument with the other customers but my wife said "this is China not a problem; don't worry". Nothing happened and the 2 gentlemen did not do or say anything.

My first experience with someone cutting in from of me was at a bank when I was exchanging money. I was in a VIP area for money exchange at this bank and was in the process of exchanging my money with the clerk and someone just put their money and documents in the window at the same time as my transaction. The clerk firmly told the other customer that she was in the process of assisting me and he had to wait, what it was not that obvious? Just remember you are a visitor to their country and it is improving in China with banks. Banks now use a ticket process as soon as you walk into the bank you get assigned a ticket with a number and get called to the next available clerk.

If you travel on Chinese airlines which includes Air China, China Eastern Air, and China Southern you will experience personal space and lines which is a great way to get used to it. When boarding is called I would suggest to get in line as soon as possible because it will be a mad rush to get through the gate and many passengers will be cutting in front of you. All you need to do is hold your ground and keep moving. Also, when you finally land in China there will be a mad rush to get off the airplane and passenger in rows behind you will force their way forward. I have experienced both and I always stand my ground and nudge people to let them know they cannot pass me too much. This was frustrating for me at first but once you understand this happens in China a lot and it is part of their culture you learn to prepared and not let it ruin your trip to China especially first impressions. Also baggage claim, people will squeeze in your personal area to get their bags and I mean they may bump you to get their luggage.

When my wife and I went to a hair Salon early in the morning around 9am when they open and we were the only customers in the salon there were a group of employee about 7 all sitting next to each other nearly on each other's laps just hanging out waiting for more customers and just using their phones and chatting. Now this place was a large hair salon and I was surprise how close they hang out together, it was amazing that they choose to be so close together.

We were at a book store to purchase books and magazines and my wife told me to pay for the items and I told her no way, look at the crowd of people at the cashier I would never make it, so my wife took the items and squeezed her way to the cashier and purchased the items in a short time and I could not believe it, if I went I would have been there for an hour trying to be nice and wait in a line of sorts.

When I started to make close friends in China they all started to sit near me and it seemed to always have body contact with me. At first I told my wife it was a little too close for me but she replied that they like you and this is the Chinese way and I should appreciate it. My wife is always right.

My experience with any type of transportation such as trains, buses, and airplanes when they call the boarding process you should get in line as soon as possible. The lines will be informal and if you do not keep moving forward and nudging people as they try to cut in front of you will be the last one on. It is not rude in the Chinese culture so you should not take it personally it is how it works in China and if you know the process then less likely you will get frustrated. It first happened to me and I got frustrated. I have read many blogs and this seems to frustrate many travelers to China as well. If you know about it before hand and understand it is part of the culture and know how to handle the situations it will be less frustrating.