Packing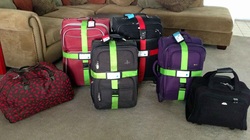 Packing light and right will make your trip to China more enjoyable. Most likely you will be traveling around China to visit the great many sights in Beijing, Shanghai, Chengdu, Xian, Kunming, Nanjing and many more in planes, trains, buses, and taxis. If you pack light and right it will be much easier to travel. You do not need to pack for every event that may happen but know what region in China you will be visiting and what time of year. Southern China is typically hot and humid and northern China is cold and dry so dress in layers. Many places will have limited heat or AC so be prepared.



China Travel Tips - Packing
Pack Light and Right

International Baggage Allowance are more generous – Check with Airline
Clothes
Reuse and clean

Casual

Cotton/Polyester

Travel Underwear

Layers

Dark Colors

Comfortable Shoes

Dress for Region

Rain Coat & Umbrella

Roll Clothes to save Space
Limited Heat and AC
Adapters – Electronics
Smartphone
Documents
Luggage Type
Luggage Identification
Cultural Difference – Packing
The Chinese pack very light and when they travel domestically except during Chinese New Year when they purchase many gifts and travel with their personal items back home. Typically Americans pack everything including the kitchen sink. But with the additional charges for baggage allowance in the US this has made us more aware to packing light.



My Packing List – For Shanghai area during Spring and Fall for 2-4 weeks duration.
Pants – Jeans 3 Pairs or 2 pair of Jeans and 1 Black casual dress pants

Shorts – 1 Pair

Swim Shorts or Active gym shorts (can be worn for swimming) – 1 Pair

Shirts – 5 short sleeve shirts (Cotton/Polyester blend)

Shirt – 1 Casual dress long sleeve shirt

Underwear – 1 cotton blend and 2 travel underwear (Spandex/Nylon)

Socks – 6 pairs (Cotton/nylon blend)

Shoes – 2 pairs, Black casual walking shoe and Black sneakers

Belt – 1 Black belt

Jackets – 2 Jackets, 1 fleece and 1 wind breaker/rain jacket
My Packing Technique from the Packing List
Wear on airplane
Jeans - 1

Shirts – 1 Short Sleeve

Underwear-1 Cotton Blend

Socks – 1

Sneakers

Black Belt

Fleece Jacket
Carry On Luggage
Jeans – 1 Pair

Shorts – 1 Pair

Shirts – 3 short sleeve shorts

Underwear – 2 pairs Travel Underwear

Socks – 3 Pairs
Checked Luggage
Jeans – 1 Pair

Swim Shorts or Active gym shorts

Shirts – 1 Short Sleeve

Shirt – 1 Casual dress long sleeve shirt

Socks – 2 Pairs

Black Casual walking shoes

Jacket – Wind Breaker/Rain Jacket
Now I have packed light and right. If my checked luggage is lost or delayed I have all my necessary cloths with me through what I wear and my carry-on luggage. My wife and I pack with this method and as you can see our checked luggage is very light and is able to accommodate at least 3 travelers with 1 large suitcase.
Seasonal Changes
Summer
Omit 1 Pair of Jeans and add 2 shorts

Omit 1 Long Sleeve Shirt and add 2 short sleeve shirts

All other clothes and shoes would stay the same
Winter
Omit all shorts and short sleeve shirts

Add 2 pair of long underwear expedition weight pants and long sleeve

Add 2 sweaters

Add 2 long sleeve shirts

Add 5 T-shirts

Change Socks to wool blend

Omit sneakers and add boots

Omit Wind Breaker/Rain Jacket with winter jacket

Add winter hat, gloves, and scarf

All other clothes and shoes would stay the same
My Experience – Packing
When I first traveled to China I was inexperience with international travel and packed everything. My first trip included 2 extra-large suit cases, 2 medium suit cases, and a backpack for myself in China for two weeks. I had brown and black shoes and belts. I had 4 sets of shoes dress shoes (brown & black), sneakers, and hiking boots. I had several jackets and too many clothes. After seeing my Chinese wife pack with almost nothing, she mentioned to me why are you packing a brown and black shoes and belts? She stated you never wear most items and she was right. Most of the time I would wear the black shoes and belts because it goes with everything. Please learn from my experience you do not have to pack for every occasion and most of the time if you need something you can buy it in China. When I packed too much it was a hassle going to and getting transportation with so many suitcases. When we travel to China now we only use 1 checked luggage for both of us. When you are in China you will most likely be traveling to different cities on different transportation, so if you pack light with limited luggage then it will be a lot easier to travel.

If you need to buy clothes in China please try everything on because the sizing label may not be correct to American standards. All vendors are willing to let you try on to get sales.

The first rule in packing light know the local weather for the areas you are visiting in China, it is a large country with many different climates. Then pack accordingly and pack in layers. We always pack in layers in China and it works well. For example, we will pack a fleece jacket with a light weight wind breaker/rain jacket. Both take up less space and the fleece can worn on the airplane and then pack your wind breaker/rain jacket which takes up very little space. If worn together it is usually warm enough to cover most areas.

I spent my first winter in China for Chinese New Year in 2006 and was not prepared for the cold weather. I stayed in hotels and they are heated and have air conditioned in the summer. When I went to my in-laws house it was freezing, I now call it the ice box. I looked around for the heating system, nothing no central heating or heaters. All construction in China is concrete and it is cold. I am coming from Las Vegas and the dry heat, wow what a shock for me. My only relief was the hotel that trip. Then I started to be more curious and looked at other stores and places of business and the only source of heat was wall units which is typical in most places in China. They are not used like in the US with constant controlled temperature; they are usually off until requested to be put on. When my wife was still living in China, she would sleep with her mother for body heat and layers of blankets. My poor father in-law had to sleep on the couch during the weather months. Now I am educated and prepared and when I travel to China during the winter months I pack my expedition weight long underwear from LL Bean and layers of warm clothes. Again it is not all places with limited heat and AC the major airports, museums, malls and stores will all have heat and AC.

When we travel to China most international flights are more generous with baggage allowance than domestic flights in the US. Please check your airlines for baggage allowances because they can change at any time and if they do change usually you are grandfathered in at the time you purchased the flights.

Clothes – Chinese dress casually and you should as well. By packing light and with only clothes you need you should reuse your clothes often and clean them as needed.

We bring fewer clothes each trip and we will clean them in China rather than bringing too many clothes. No one will notice that you only have worn several different shirts when visiting the Great Wall or Terracotta Soldiers they will be looking at your smile and beautiful scenery. The trick is to bring cotton/polyester blend clothes. Typically Americans prefer soft cotton but cotton does not dry quickly, so cotton/polyester blends tend to dry quickly after cleaning. The cotton/polyester blend is soft on your body and does not wrinkle as much as cotton only.

We will bring all items in dark colors because they hide any unwanted dirt or stains and we look more like a local. You do not need to stand out more with bright colors because you are a foreigner in China and people will be sharing at you anyways. Most likely they will ask to take a picture of you with them.

I would highly recommend travel underwear. I will pack 2 pairs of travel underwear and one pair of cotton. Pros and cons of travel underwear. The pros are that you do not have to bring as many and they can be cleaned and dried quickly (overnight). The cons are they are made from Spandex and Nylon/Polyester which allows to dry quickly but they are essentially plastic and if you sweat a lot like me then they can be very sweating in warm climates. Also they are more slippery than cotton blend so your pants tend to slide down more. I bring 1 pair of cotton underwear to wear on the flight over and back because they are more comfortable. The travel underwear is easily washed in the sink with bar soap and dries overnight.

We typically only pack 2 pair of shoes, black sneakers and black shoes which covers us for all occasions. Make sure they are comfortable because you will be walking a lot in China.

We bring jackets that have a waterproof shell and a fleece jacket which can be paired together depending on the weather.

We use the roll your clothes method which works excellent and saves a lot of space.
Electrical Outlet in China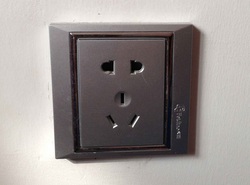 China uses 220 volts and the US is 110 volts for electronics. Please review your electronic devices if they are compatible with 220V. Our iPhone/iPad chargers are rated for 220V so we plug them directly into the outlets without any adapter or converter. Our laptop is rated for 220V but it has a ground plug (third prong) on it so it does not fit into the socket, so we purchased a universal adapter. Again check your electronic device before plugging into the outlet. My electric shaver is NOT rated for 220V so I have to use the outlet in most hotel bathrooms or we bring a converter which converts the 220V to 110v. See photo for a typically 220V outlet in China, both plugs are 220v just different plug types.

Smartphone - Translator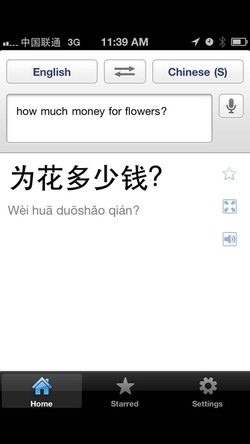 We definitely bring a smartphone with us to China; we get 1 iPhone on the international data plan for access to the internet and emails. It is very useful for the Google translator which I highly recommend in China. If your smartphone is unlock you can just purchase a sim card in China and your off, we did this with our old iPhone and it is an easy process.


Documents - Hidden Pocket Belt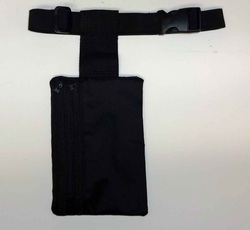 We keep our important document on us at all times which we use a Hidden Pocket Belt which we designed after trying the waist belt and hidden pocket from other retailers. Both items are good if you only stand up but if you have a gut like me and stand down often for transportation, eating, relaxing on a park bench or any other sit down position they are very uncomfortable. Our design is position in the natural location of a pocket so it is very comfortable all day long standing and sitting and with its own belt it is completely hidden. Also this design is great if you do not have pockets or unsecured pockets like gym shorts, active shorts and or sweat pants. Always make a photo copy of all your documents and keep it in your carry on. We take photos on our smartphone and email to us on our personal emails such as Gmail, yahoo, and Hotmail accounts which can be accessed in China. China has crime like any other place in the world but foreigners are stay if you use common sense. The only crime you may experience is pick-picketer's which my wife reminds me every time we travel in a crowd area such as train stations and anywhere with a mass of people crowding which happens in China with so many people. If you are interested in our Hidden Pocket Belt please see our products page.

Luggage - Wheel Type

Luggage Types - We use both swivel wheels and 2 rollerblade wheel type suitcases. The swivel wheels are great if you are on a smooth surface and are waiting in lines (airport, taxi, hotel etc…). The 2 rollerblade wheel type is great for most surfaces and in china you will experience different types if you travel on trains and buses.


Luggage Identification - Strap-n-Tag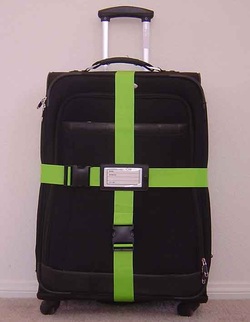 We identify our luggage as much as possible. I experienced losing my luggage in China and it is not a good feeling when you finally arrive from the long journey to China and your luggage does not show up on the baggage conveyors. Then you have the language barrier and my wife was at the airport meeting me thus she was not able to get in the area to help me to communicate my lost luggage. You must remember most suitcase look the same and are black. The black colored luggage is good because it hides all the dirt from baggage conveyors but most everyone else has the same color. After my experience of losing my luggage and observing travelers using straps and then modifying them to a cross type, I created a cross luggage strap design called Strap-n-Tag. My first thought to use the cross design was maximum securing on all side of your luggage if the zipper breaks, but the added advantage is that it identifies your luggage. I can spot my luggage from a distance on the conveyors and seeing it as it is loaded on the airplanes in some cases. After losing my luggage I cannot describe the feeling when you see your luggage arrive in China it is a relief. Also it reduces other passengers of taking your luggage; you do not want to be that person in the movie "Frantic" great movie by the way, someone taking your luggage by mistake. Also the cheap paper luggage tags you get free at the ticket counter are only asking for trouble.



Good Practice after each trip review the items that were not used or only used once and each trip you should reduce the items packed. I do this after every trip and each time I still over pack items I do not need. I believe the main reason is now I pack very light and have extra room in my luggage so I tend to fill it up.