China Travel Tips - Money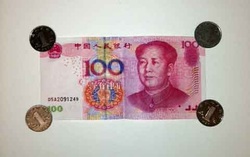 Cash is king in China and the currency is called Yuan (RMB). Always use local currency and never use US dollars. When you arrive in China you will not have local currency so at the airport use the ATM to withdraw cash for the day. Avoid the exchange booths they have higher rates than the ATM machines. You should call your bank to let them know you will be traveling to China and will be using your credit cards and ATM cards. Cash is preferred but more and more locations are accepting credit cards as the Chinese are using more credit cards themselves. If you plan on using your credit card for purchases in China you must always show your passport. We never use traveler's checks they are a waste of time and not used as much by travelers anymore. We bring a combination of cash, credit cards, and ATM cards.
China Travel Tips – Money
Cash

Exchange

Credit Cards

ATM/Debit Cards

Money Belt

Safety
Cultural Difference – Money
Chinese typically pay everything in cash and Americans typically pay everything with credit cards. When they travel domestically and internationally they will have a bag full of cash on them for purchases. We would never carry a lot of cash on us in American. It is a good idea to always keep cash on you during your China trip.

When I first visited China in 2004 most everything was paid in cash, such as apartments, cars, and small businesses but with the booming economy more and more Chinese are using credit cards. Also loans are becoming more available to the Chinese for apartments and cars.
My Experience – Money
We mainly bring US dollars with us to China and then exchange at a bank or hotel. We bring new looking 100 dollar bills and it they are faded they may not be accepted. We pay everything in cash except flights, major hotels, and major purchases at large malls. All our restaurants, street food, trains, buses, taxis, shopping, and museums will be paid in cash. As soon as we land in China we go to an ATM machine and withdraw local currency. The limit per withdrawal is usually 2000RMB ($318.47 US Dollars as of 03/22/13) so if you select a larger amount which I did often it will not work and then reduce your amount and try again. As long as it has a Visa symbol next to the machine you should be able to withdraw using your ATM card.

We exchange our US dollars at banks or hotels and we found the best rates are at the banks. The highest rates are the exchange booths at the airports. We found some banks only exchange money Monday through Friday so depending when you arrive in China a hotel maybe a better option until you can get to a bank. Also not all branches exchange money, we found in a smaller city with many branches that you need to visit the major branch to exchange money. Through our experience you can exchange money in most cities and towns large and small as long as you find the major branch and it is Monday through Friday. Just be aware that a person will offer to exchange money with you at the bank and this person is not associated with the bank. Just firmly refuse and smile which this may be a better exchange rate but the money maybe counterfeit. They are always standing around the bank and as a foreigner they know why you're at the bank.

Most banks have a kiosk machine to get a ticket to see a window clerk and someone from the bank will be there so you select the correct ticket. The process is much like the DMV in the US; you get a ticket and wait until your number is called.

We use our credit cards for major purchases, for example, flights, hotels, large purchases at major shopping centers. If you explore China and stay at smaller Chinese hotels (which we recommend you experience) you may find that they only accept cash and you must put a deposit of cash upfront as well as your rate of the hotel room. Also note that you may see Chinese using a credit card to pay for items but they may not accept your US Credit cards which their system may not be able to accept VISA/MasterCard/American Express. This has happened to us several times that why we always make sure we have enough cash on us at all times.

We use ATM cards when we first arrive in China to get money for the first day. We have used ATM cards all over China in small towns and villages as long as the ATM machine has a VISA symbol. The banks we typically use are Bank of China, Agricultural Bank of China (ABC), and HSBC bank which are everywhere in China (small cities, towns and villages). Now if your ATM card does not work you may be at one of the many local government owned banks, so look for the VISA symbol. Please check with your bank for the additional ATM withdrawal fees from China. As soon as you put your ATM card in the machine you will have an English option so no translation is needed.

Since we use mainly cash in China we keep our money in a Hidden Pocket belt and only keep our daily expenses handy. Based upon what you are schedule for the day you should be able to estimate how much cash you will need and keep it at hand rather than dipping into your money belt throughout the day.

China is a safe country and we have never had a problem with security, but my wife always reminds me to watch out for pickpockets in train stations and crowded areas. If you use common sense this is the only crime you may encounter if any. But if you do not use common sense and get drunk and walk down a dark area then you are asking for trouble which you can find anywhere in the world. Use a money belt or bag or front pocket to keep your valuables; never and we mean never put your wallet in your back pocket.