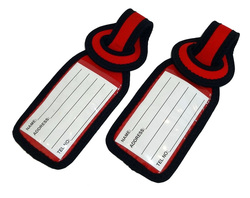 The Neo-Tag by MerchantVegas is an innovative luggage tag. Most luggage tags have a thin strap which easily breaks and or gets caught in the baggage claim conveyors. The Neo Tag is made from neoprene material which allows for maximum flexibility and limits the chance to be damaged in baggage handling. The best method to avoid lost luggage is by clearly identifying your luggage and this new luggage tag design solves that problem.
Why Buy?
Quickly Identify your Luggage.

Reduce the opportunity of travelers taking your luggage by mistake.

Great for group identity.

Travel magazine's states the best method to reduce your chances of losing your luggage is to identify it.
Specifications:
Heavy Duty Neoprene Material

Fits standard business card (Address Card Included)
Durable, Flexible, and Long Lasting
Quantity – 2 Neoprene Tags per Order
Contact your local Luggage Store or Sales Representative for this new item.