Strap-n-Tag - 2 Luggage Straps with ID Holder - RED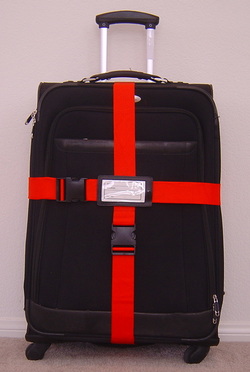 The ultimate luggage strap with ID Tag. This design uses 2 straps for maximum holding. The straps are made from durable woven polyester and the polyester colors are brilliant. The ID tag is made from genuine leather which will last for many trips to come.
This design will secure and identify your luggage.

Why Buy? Cross Luggage strap design offers maximum securing on all sides. Secure your Luggage from over packaging (gifts and souvenirs). Quickly Identify your Luggage, especially in Baggage Claim. Reduce the opportunity of travelers taking your luggage by mistake.

Specifications: Genuine Leather ID Tag with Button Snap - Black Insert Card with Name, Address, and Tel No. Durable Woven Polyester Strap, 2"Wide, Adjustable 40" to 72"Length Durable Woven Polyester Strap, 2"Wide, Adjustable 50" to 94"Length Heavy Duty Quick Release Buckles and Adjustable Buckles. 100% Brand New Product. Individually Wrapped in Poly-Bag. Fits most luggage sizes. Color – RED Straps
Luggage - NOT included with Strap-n-Tag in Picture. Designed by MerchantVegas. Please contact us for Wholesale price.