China Travel Tips – Foot Massage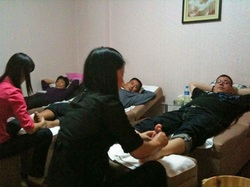 One of the greatest pleasures you should try in China is a traditional foot massage. They are everywhere in China and very popular with the Chinese. The foot massage usually last between 60 or 90 minutes. Cost is between 60-300 RMB depending on the location. The massage types and prices are posted in front and you should always confirm how long and the price of the foot massage before starting. They will have different types of massages, body, Thai, and foot. We would recommend the foot massages for the first massage in China.
The massage starts by you entering a private room and they will bring a bucket of hot water to soak your foot for about 5-10 minutes before starting the foot massage. Some places only use hot water while our places may put herbal ingredients in the water. As your feet are soaking in the very hot water they will massage your legs, arms and back. Then they will start the foot massage after 5-10 minutes and will wrap one foot with a towel as they massage one foot. They will use jelly type lotion to massage the feet. When they start the foot massage it will be painful for the first timer and you can let them know if you want it harder or softer, the harder the better. The foot massage should be intense pressure on your feet. During the foot massage you have be offered tea and fruit or you can order snacks as well. They will massage both feet and after they are done they will usually give you a quick body massage depending how long your foot massage is 60 or 90 minutes. This is a general description each place is different and has different practices which is why we try different places throughout China.
China Travel Tips – Foot Massage
Foot Massage

Hot Water

Time and Cost

Drinks and snacks

Tipping
My Experience – Foot Massage
My first experience with a foot massage was incredible and so affordable I got two that day which I do not recommend it was a little excessive. We would recommend 1 foot massage every other day at the most.

They start by soaking your feet in hot water and we would suggest you test the hot water before putting your feet directly in because I have experienced very hot water that burnt my feet. If it is too hot they will get a large cup of cold water to reduce the temperature.

We always verify the how long and the price of the foot massage. Actually my wife being Chinese will entry the building before I do and will get the best price then I will come in because I am a foreigner the prices could be different. Also keep a general awareness of the time because there have been cases they did not give me the full time.

My lesson learned. Verify that you only want a foot massage not a happy ending. Most places have options for happy endings and if you run into a lost in translation situation you may be in for a surprise which happened to me. I went with my father in-law and a friend from Shanghai for a foot massage my wife was not with us. I thought 1 of the 2 knew the English word for toilet but no one knew the word at this foot massage place either. As I motion to take a pee they did not understand and took me to a private room with tables for a body massage, I said no then they took me up stairs to a room with only a mattress on the floor, wow lost in translation. Finally I took the initial to walk around until I found the toilet. Most places are legit foot massage places but if you want more usually you can get it. Our word of advice if you are in an uncomfortable situation is just walk out because you are a foreigner and many people do not want to get the police involved with a foreigner.

In China tipping is not expected so you do not need to tip your masseur…