China Travel Tips - Food Part I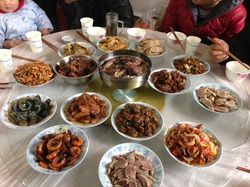 Introduction to Food in China
The main reason visitors come to China is the amazing historical sites. The second reason should be the the outstanding food. So get out and experience the wonderful food and stay away from the western brands such as KFC, McDonalds, Pizza Hut and Starbucks. The food in China is diverse and varies by region, for example, Beijing is very popular for Peking duck but in the Nanjing and Shanghai cities duck soup is preferred. In northern China more wheat noodles are consumed rather than rice. In Sichuan province is all about spice with the chili peppers.
Our China Travel Tips for food in Part I will focus on visitors most immediate concern which is I going to get sick. A lot of visitors worry about getting sick and do not experience all the fantastic food. One of my inspirations for starting this website was family members going to China (unfortunately we could not join them during this time) and they did not try as much food in fear of getting sick. We eat what the locals eat and we have never gotten sick from the food, not saying it can't happen but we will give you tips on how to eat like a local. To eat like a local you must go where the locals eat. Other concerns but we do not speak the language and the menu is in Chinese and the place looks dirty. Not a problem we will provide you with some helpful tips.
China Travel Tips – Food Part I
Style of Food

Chopsticks

Where to Eat

Ordering and Language Barrier

Street Food

Cooked Foods; Salads and ICE

Sickness
Cultural Differences – Food Part I
The culture difference between the "Style of Food" with American Chinese or American food and real Chinese food is evident with meats such as Pork, Chicken, Fish, and Beef. In American we mainly eat the meat not the skin, heads, feet, tails, and bones which is serviced in China. The Chinese prefer the skin, head, feet, tails, and bones over the meat. Also when you order the meats in China there will be considerable less portions compared to the US. When you order BBQ pork, for example, in China there will be little meat and a lot of fat and skin. Caution for the westerner, you will experience small bones from the meats and fish so we careful when eating. It is difficult for me to eat some fish with tiny bones in them, so please be careful.

The culture difference between utensils is the chopsticks for China and forks for the US. Therefore in China food is chopped in bit size pieces rather than large pieces in America. This makes it a lot easier to use the chopsticks and food is shared between everyone. We recommend you learn to use Chopsticks before your visit to China, it is fun and respectful. Also we recommend you eat at local places which may or may not have forks.

The culture difference between cooked food in China and America is that the Chinese do not eat salads or raw food. All food and water should be cooked and brought up to temperature to kill any bacteria. Typically Chinese do not use ice in their drinks which are typically room temperature or hot. To this day my wife will not allow me to eat raw celery and other vegetables in America because in her culture those vegetables on the farm use fertilizer from human and animal feces and are not safe to eat raw. This relates mainly to vegetables grown in the ground. Who is right or wrong, no one it is a cultural difference.
My Experiences and our Recommendations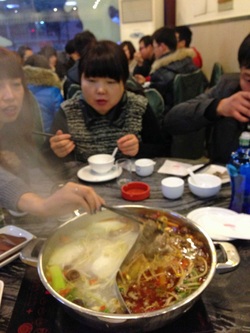 Where to Eat
We recommend avoid the western brands and try to eat at local places rather than the typical tourist trap places. If you see a lot of westerners in a restaurant try to avoid this and look for restaurants with many Chinese people in them. Sometimes you may have to look down other streets rather than the main tourist areas. Try to eat food when the locals eat which is from 11:30am to 1pm for lunch and 5:30pm to 6:30pm for dinner then you can see if locals are eating there. If the place is empty with only a few customers during these times you may want to stay away. When we visit other towns and cities without any knowledge which place is good or not, we follow this method, is the place packed with locals.


Ordering and the Language Barrier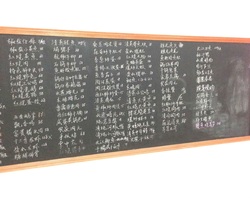 What if I go into a local's restaurant and everything is written in Chinese and we do not know the language and no one speaks English. Easy, if you follow "Where to Eat" you are doing to a place packed with locals and locals know what to eat. Most restaurants will have a specialty or seasonal foods, but in any case most all tables with locals will be eating the main specialty. What you do is walk around to different tables and looks at what's appealing to you and point with the waiter and you just ordered your food. We do this all the time in China when we go to other towns or cities we will literally walk around to other tables and point with the waiter. Yes, my wife knows the language but we want to eat what is the specialty or fresh food and we only know by seeing what the locals in these restaurants are eating. We followed these exact steps when we went to Paris, France with a language barrier for us and we pointed to what the locals were eating and it worked. For example, we frequent a small local restaurant in my wife's small town and their specialty is a spicy chicken dish and if you go this restaurant every table has this main dish.

Street Food

Street Food
One of the great pleasures of China is the great many varieties of street food. Again follow the steps above, make sure many locals are eating at the street food vendors. We read a lot of blogs people trying the scorpions on a stick with street food vendors, reminder not many locals eat this food; it is more of a tourist attraction. Eat where many locals are eating, for example, one afternoon in Shanghai I were very hungry and wanted some mystery meat on a stick from a street vendor. I am a very impatient person and suggested to my wife to order from a vendor who was not busy because I did not want to wait for the vendor which was very busy. My Chinese wife replied do you want to get sick I said no and then she said we will order from the busy vendor. Again she was right I never got sick and or reduce my chances of getting sick.

Cooked Foods – Salads and Ice
All foods in China are cooked to temperature and this will usually kill bacteria. In China the locals do not eat salads or use ice. During my first trips to China my wife warn me not to eat salads even at the luxury hotels or use ice. The salads are only eaten by foreigners and the vegetable use human and animal feces to fertilize their farms. I learned this upon my first visit to my wife's grandmother house which did not have pumping back in 2004, I went into the "bathroom" and there was a plastic bucket with a rope around it and it was filled with excrement. My wife said it was used for her garden as fertilizer and we will be eating vegetables from her garden today. Our point is not to gross you out but this is reality and I have never gotten sick from eating in China, my time in China is 15 trips with over 300 days eating local food. Typically drinks are serviced at room temperature or hot, but more and more places have refrigeration for cold drinks. We in America like our drinks soda or water cold with ice in it. I would suggest staying away from ice because it is usually tap water frozen and not boiled to kill any bacteria for a foreigner.

Sickness
Some say we do not want to eat at local places or street food because we do not want to get sick, this is a crazy thought process if you're visiting China one of the great places for food. If you follow our steps you will be less likely to get sick, not saying it cannot happen but be smart and enjoy. I personally get sick in America from eating out than I have ever in China. Yes, I spend more time in America but only eat out several times a month whereas in China we eat out 99% of the time. My travel doctor worked in the Peace Corp and suggested that I get travel shots, take Pepto bismol, and cipro (see your doctor for advice and prescription) for my travels in China. We believe if you follow our steps and use common sense you have no more risk of getting sick than you do in the United States. But remember food that does not agree with you is not always a sickness. For example, when we eat spicy hot pot loaded with Chili peppers I have loose bowel movements the next day and my wife who used to eat it all the time has the same result, this is not getting sick but your body not used to the food or spices.