China Travel Tips – Drinks and Drinking

Drinks and drinking in China is an excellent topic and we will cover non-alcohol and alcohol drinks. The Chinese prefer their drinks to be hot or warm in temperature. My friends and family in China recommends warm or hot temperatures which they say are better for your digestive system. But in America we like our drinks cold and with ice. The Chinese love to drink their tea like we drink our coffee. Most travelers will be advised to drink only bottle water or hot water. We suggest not using ice because it can be regular tap water not boiled (to kill any bacteria) and frozen which may be more of a source of travelers' diarrhea than eating street food. During festive times in China which there are many they like to drink their alcohol drinks such as Baijui (rice wine), beer, and red wine (very popular now). The most important factor when drinking alcohol beverages is you never drink alone.
China Travel Tips – Drinks and Drinking
Tea

Bottle Water or Hot Water

Hot verses Cold (Ice)

Baijiu (Rice Wine, Rice Whiskey, Rocket Fuel)

Beer

Wine

Never Drink Alone
Cultural Differences – Drinks and Drinking
Hot verses Cold
The cultural difference with temperature for drinks in China compared to the US is the Chinese prefer warm or hot beverages. The Chinese prefer hot tea or hot water and no ice or cold water. In some places it may be difficult to purchases cold beverages especially outside the major cities. All water is boiled to kill any bacteria so it is common to drink at hot temperatures.



Tea
The cultural difference is Chinese prefers tea over coffee and we in the US like our coffee. There are many different types of teas in China and I would suggest you taste before buying which is typically and you can attend a traditional tea ceremony as well.
Never Drink Alone

The cultural difference when drinking in a group in China is that you never drink alone. When someone drinks it is recommended that you drink with someone in your group with a toast. If you get thirsty and want to drink then toast someone. This is typical at a banquet lunch or dinner or an evening out with locals. In American we usually toast or cheers at the beginning of the event then everyone is free to drink at their leisure but not in China.


My Experience – Drinks and Drinking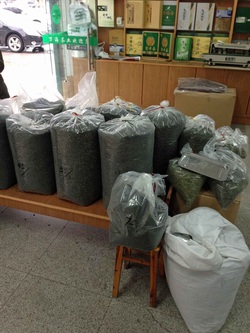 My experience in China with hot and cold beverages is that I get used to drinking everything warm or hot. Even on hot days I will drink hot tea and soups. I never use ice in China because it is probably regular tap water not boiled then frozen. I would strongly suggest staying away from ice. Travelers probably get sick more from ice than eating street food and blame it on the street food because we never think it could be the ice. In all major cities you can find cold beverages but we aware as you explore smaller towns and villages there may not be cold beverages. My first trips to China I had to get used to drinking warm beer which takes some getting used too. Some travelers think they only drink bottle water in China but if you drink tea or soups then you are probably drinking non-bottled water which is boiled and is safe to consume. I personally consume a lot of non-bottle water because when we go my wife's family's homes in the villages we are consuming non-bottle but again it is boiled.

My experience in China with tea is awesome and I bring back 2 suitcases full of different teas. I prefer the local tasting tea which is a green tea but NOT like Jasmine or oolong tea. It is an everyday tea by the locals. There are so many different types and I would suggest you try before you buy which is common. Locals tips, the dried tea leafs look tiny but we hydrated with hot water they expand so do not use too much. Also, you should always clean your tea before drinking, by this we mean place your tea in the glass then add hot water then pour out the tea (leaving the leafs) then add more hot water, this is a locals tip to clean the tea.

My experience in China with a tea ceremony was given by a good friend who is a Buddhist now and it was an excellent experience and I would suggest going to one. Again just make sure you know the prices for the event and tea, so you do not get overcharged for what you are willing to pay.

If you need your coffee do not worry because there are Starbucks everywhere in China and there are coffee cafes as well.

All bottle water is not the same. During our last trip to China we walked out of a mall in Nanjing and I was thirsty and wanted bottle water. A lady had a small stand set-up and sold beverages and I asked my wife to get me bottle water but she said no to that vendor. We will find a store to get the water. I asked why and she said it could be regular tap water not boiled which may not be safe. Travel Tip – If you want any type of beverages like bottle water, Coke, or ice tea you should buy it from a store not someone on the side of the street. I drink the tap water all the time in China but it is boiled, when in doubt boil it!
Alcoholic Drinks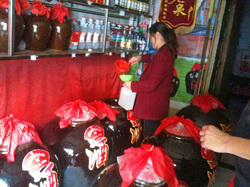 The types of alcohol we drink in China are Baijiu (Chinese rice wine), beer, and red wine. Other alcoholic beverages are available in the major cities but again if you venture out to smaller cities, towns and village these three are the staples. The Chinese Rice wine is very strong in alcohol content so please be careful and just like tea there are many varieties to purchase. I have drank the full range of alcohol proof and would recommend 40-42% by Volume which is strong but not too strong where as it has a tasted rather than all alcohol taste with the stronger volumes. Beer will be everywhere in China and it may be warm or cold, so always ask for cold beer because they may have it as an option which warm would be the standard. Red wine is becoming more and more popular and the Chinese are buying up a lot of vineyards around the world. Again if you are in a banquet style event in China drinking do not forget to toast someone before drinking yourself. Also you should be drinking the same amount. If using small glasses, which is common drink the same amount as the person you toasted.